Crayton-Spruill Cemetery
March 18, 2017
• 0 Comment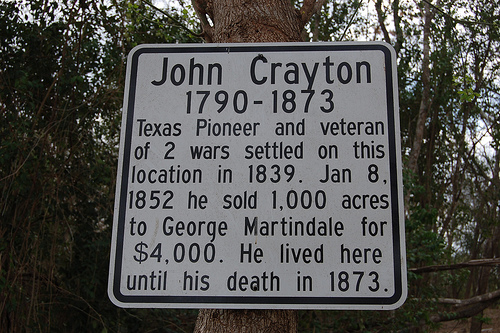 Martindale, Caldwell Co. Cemeteries of TX
Transcribed by Ms. Velma Fogle
Care and data collection also provided by Alison Tutor
Submitted by RockHound Gal
http://www.cemeteries-of-tx.com/Etx/Caldwell/cemetery/craytonspruill.htm
John Crayton, his son James Lasater Crayton and their slaves emigrated to the Republic of Texas from Marion Co. Alabama in 1839.[1] They settled in what is now Martindale, Caldwell County. They were among the founders and builders of Caldwell County. The slaves (hands) of John Crayton helped build the first roads in Caldwell County.[2] The Spruill Family and their slaves emigrated to Martindale from Marion County, Alabama after 1850 and prior to January, 1856. The Crayton-Spruill Cemetery is a burying ground for Caucasians and African Americans. The first known burial in this cemetery is William W. Spruill who died Feb. 28, 1868. On January 12, 1871, John Crayton deeded the land to the San Marcos Missionary Baptist Church to be used for a church and a burying ground for colored and white people.[3] The colored persons were to be buried south of William Spruill's grave, the whites to the north of the same grave. The church was never built on this property but the congregation baptized for many years at the low water crossing and used the cemetery for burials.
John Crayton fought in the War of 1812 as a volunteer in the E. Tenn. Militia.[4] He fought in the Mexican War from June 2, 1846 until Sept. 22, 1846.[5] He served in Co. K under Capt. Grumbles. There are four Masons buried in this cemetery.
The cemetery has suffered from past vandalism , many tombstones are missing and the remaining ones were broken. Adrian White, a fifth generation descendant of John Crayton, repaired the broken ones and recovered from the ravine a number of tombstone bases from which the upper portions, bearing the names and inscriptions of the deceased, had been removed. On Mother's Day of 2002, Phillip Shurtleff, a seventh generation descendant of John Crayton, placed these bases at the top of several sunken areas that appeared to be graves. The bases are ornate which indicates the top portions were also ornate.
The Crayton-Spruill Cemetery is not cared for by any association or committee. The Cemetery receives sporadic care from various descendants of John Crayton. The adjourning property owner Mrs. Joan Daily Spragins has been a friend, protector and advocate for the Cemetery since she and her husband C. E. built their home there in 1940. In early 2002, bad health caused Joan Spragins to move to a retirement home in Round Rock. The cemetery will miss her.
It is a Registered Texas Historical Cemetery.
Allen, Elizebeth, 25 Sep 1805-14 Apr 1876
Allen, Luke S., 24 Oct 1832-12 Apr 1877, Masonic order
Allen, W. B., 14 Jul 1837-30 Aug 1880, In Guadalupe Co.
Crayton, John, 6 Jan 1790-2 Dec 1873
Crayton, Mahala, 24 Jan 1804-24 Jul 1884
Spruill, James W., 8 Aug 1817-24 Apr 1880, Member Masonic Lodge
Spruill, Luke, 24 Jan 1812-d. illegible
Spruill, Nancy, 18 Nov 1809-11 Jan 1886
Spruill, William W., 19 Apr 1816-28 Feb 1868
Correction by Velma Fogle:
Shaw, Armster, Died: Feb. 15, 1911–age 25–At Rest
Jones, Cleveland M., Died: Aug. 21, 1922– age 8 years–Asleep in Jesus
Ellis, Jesse T., Died: April 28, 1921– age 19 years–At Rest